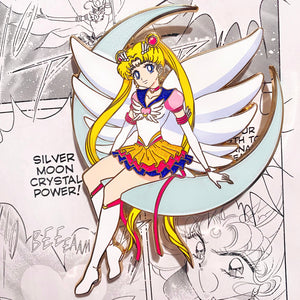 LIMITED EDITION 40

Sailor Moon Eternal sitting on a crescent moon in her Senshi outfit. This pin will be 4.69" inches featuring a pearlescent moon, screen printed face, pearlescent effects, and glitter.


------------------------------------------------------------------------------------------
By purchasing this item, you are confirming that you understand the following:
-Please note proof colors may be slightly different via mobile device/ desktop screen. 
-This is a presale item, please not combine any in-hand listings on my shop. In result will lead to a wait in shipping until production have been completed.
- We do not claim any item in this store as an authentic/licensed item pertaining to the fantasy design's origin of inspiration. 
-Delivery date is subject to change if there are any delays. Delays will be communicated through my Instagram account 
-You have looked and agreed to the store's policy. Wonderful Things Co is not responsible for any lost packages on behalf of USPS.
-All pieces are handmade and are subject to vary from one another, a pin is NEVER 100% flawless. If you do not agree please with out guidelines please refrain from purchasing. 
-If you need your address changed, please email wonderfulthingsco@gmail.com 


Art illustrated by @dearha_freewings