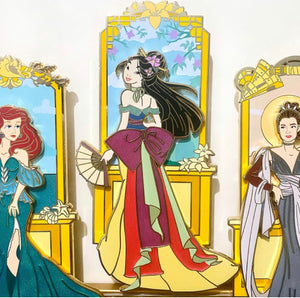 1st in the series. Limited Edition of 50, Elegance Mulan is 5 inches in height and is pin on pin. Pin features pearlescent and printing features. Top pin is be Mulan, and the bottom pin is the balcony.

—————————————————————————————
By purchasing this item, you are confirming that you understand the following:
-Please note screen colors may be slightly different via mobile device/ desktop screen. 
-This is a in hand item, please not combine any presale pins listings on my shop. In result will lead to a wait in shipping until production have been completed.
- We do not claim any item in this store as an authentic/licensed item pertaining to the fantasy design's origin of inspiration. 
-Delivery date is subject to change if there are any delays. Delays will be communicated through my Instagram account 
-You have looked and agreed to the store's policy. Wonderful Things Co is not responsible for any lost packages on behalf of USPS.
-All pieces are handmade and are subject to vary from one another, a pin is NEVER 100% flawless. If you do not agree please with out guidelines please refrain from purchasing. 
——————————————————————————-
Artwork created by @lynn_eya